What are the advantages of lifestyle benefits? 
Lifestyle benefits are rapidly becoming the future of employee benefits. Here are several strong reasons to support that fact, which represent the advantages of offering a lifestyle benefits program:
1. Lifestyle benefits help give your company a
competitive edge
among current and future talent
Most companies already offer competitive compensation ranges and standard benefits like PTO and medical, dental and vision benefits, and at the same time, the competition to attract, hire AND retain quality talent has increased significantly.
Offering lifestyle benefits has emerged as a powerful way for employers to differentiate themselves in a crowded hiring market while allowing them to stay true to themselves.  
2. Lifestyle benefits
directly impact employee engagement
and retention, two persistent people challenges with moving targets
Even companies with very generous overall benefits packages can suffer from low employee engagement and productivity, and the massive shift to remote work that we've all experienced this year has proven that.
Offering employee lifestyle benefits that are customized to your people's unique needs is hugely beneficial for companies wanting to increase employee engagement and retention in this current climate and in the long-term as workplace conditions evolve. 
3. Lifestyle benefits promote an
inclusive company culture
Now more than ever companies have the responsibility to not only prioritize creating diverse and inclusive workplaces, they also have to put action behind those intentions.
Lifestyle benefits can be designed in way that addresses all of the needs of your diverse workforce, whether that means supporting an employee who's a 22-year-old recent graduate who lives in the city with a cat, or a 55-year-old executive with three kids and a home in the suburbs. Lifestyle benefits, particularly in the form of flexible perk stipends, are ideal for that type of personalization and inclusivity. 
4. Lifestyle benefits are
a smart financial decision
, as they are relatively inexpensive compared to salary
There are many reasons you might not want to or be able to offer a pay increase to employees. When increasing their compensation isn't an option, offering meaningful lifestyle benefits can be powerfully effective in making them feel supported - sometimes even moreso than a simple pay bump - while also being very cost-effective for you, especially if you use a lifestyle benefits platform like Compt to reduce the administrative burden. 
---
This trend towards expanded and unique employee lifestyle perks and benefits - and away from the cookie-cutter basic benefits packages - has been a long time in coming. Employees have been wanting for more for years.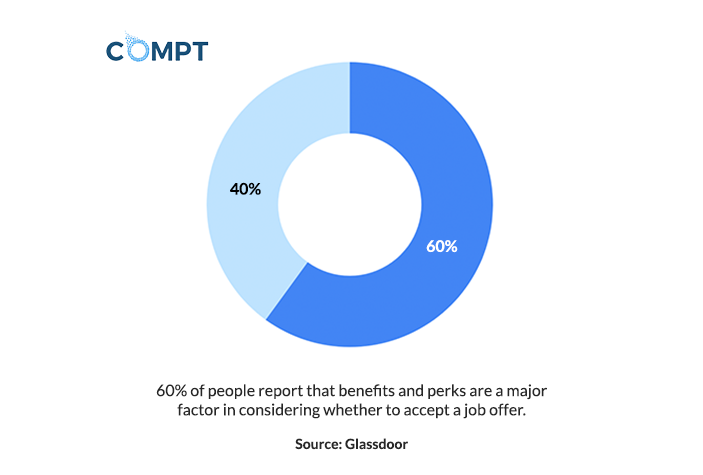 Even before the pandemic, studies showed that about 60% of people considered benefits and perks to be a major factor when deciding to accept a job offer and 80% of employees would choose additional benefits over a pay raise. 
Now is the perfect time to re-evaluate and revamp your outdated perks programs to better suit your employees lifestyle needs today. And speaking of the now, here's a helpful resource about why your remote employees need support like your on-site team members.